From the cobblestoned streets of the Latin Quarter to the grandiose boulevards of Champs Élysées, Paris is a city that radiates energy and passion. When it comes to nightlife, it's no different; with an abundance of bars, clubs, and live music venues scattered throughout this great city, it can be hard to decide where to go first.
From traditional French taverns serving up local delicacies and craft beers to world-renowned nightclubs playing thumping techno beats until dawn; there is something for everyone looking for some after-dark entertainment in Paris. Here are our picks for The Top 10 Bars, Clubs, and Live Music Venues in the City of Lights – guaranteed to provide a truly unforgettable evening out.
Le Duplex: Legendary Club for Dancing and Live Music
Le Duplex is one of the most iconic clubs in Paris. Located in the trendy Marais district, it's a go-to destination for anyone looking for a night out filled with dancing and live music.
With its two floors and an ample dancefloor, Le Duplex offers something to please everyone from the casual dancer to those who prefer to stand back and admire the electric atmosphere. The club also features some of Paris's best DJs spinning everything from house music to hip-hop – perfect for getting down on the dance floor! Live bands often play at Le Duplex too, making it a great place to catch up-and-coming acts as well as more established artists.
It's no wonder that this legendary venue has become one of Paris' top spots when it comes to enjoying partying until dawn or simply taking in some live music!
La Bellevilloise: A Popular Hangout Spot with Bars, Clubs and Concerts
Located in the heart of Paris, La Bellevilloise is a popular hangout spot for locals and tourists alike. With its bars, clubs, and concerts, it offers something for everyone – from live music to cocktails and dancing.
The venue has been an integral part of the city's scene since 1877 when it originally opened as a café-théâtre. Its many sections include two large dance floors that accommodate up to 500 people each and three private areas with their atmosphere.
The bar serves a wide selection of drinks ranging from beer to signature cocktails while the restaurant features traditional French dishes prepared with fresh ingredients sourced mainly from organic producers. On weekends, there are usually DJs spinning records on one floor while the other hosts live bands playing all sorts of genres including soulful jazz beats or funky electro-disco rhythms.
Concerts also take place regularly at this multi-level venue featuring both local artists as well as international acts like LCD Soundsystem or Stromae.
Social Club: An Eclectic Music Venue in the Heart of Paris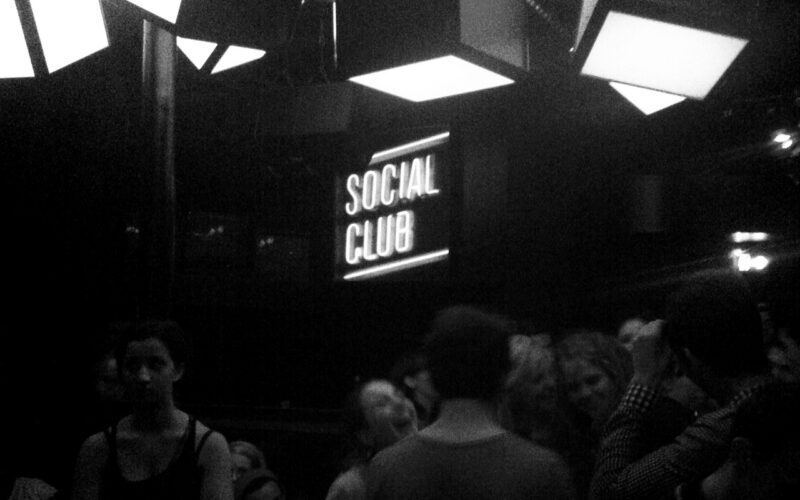 Social Club is an eclectic music venue in the heart of Paris, providing a vibrant energy to its visitors. Located near Place de la Bastille, it's easy to access from any part of the city and offers a wide variety of musical genres for those looking for an unforgettable night out. From rock classics to modern chart-toppers, Social Club has something to offer every type of audience – plus its diverse selection of drinks and snacks makes it ideal for all kinds of events.
The atmosphere is always lively with a host of talented DJs spinning tunes until late into the night. Whether you're looking for an intimate gig or just want to dance away your worries, Social Club is worth checking out while in Paris!
Nuba Paris: Upscale Lounge & Bar for Cocktails and Entertainment
Nuba Paris is the perfect spot for a night out in the City of Lights. Located in the heart of downtown, this upscale lounge and bar offers some of the best cocktails in town as well as plenty of entertainment options.
From cozy seating areas to lively dance floors, Nuba has something for everyone looking for a great evening out in Paris. The cocktail menu features inventive creations such as elderflower martinis and lavender gimlets that are sure to tantalize your taste buds and keep you coming back for more.
And if you're feeling adventurous, they also offer flight tastings featuring different types of spirits from all around the world! On top of drinks, Nuba also provides live music nights with jazz bands, and DJs spinning hip-hop beats or acoustic performances – making it one-of-a-kind among bars and clubs in Paris. So whether you're looking to relax in an intimate setting or let loose on their vibrant dancefloor, Nuba Paris is worth checking out when visiting Europe's most romantic city.
Wanderlust Paris: A Trendy Nightclub Featuring DJs & Live Acts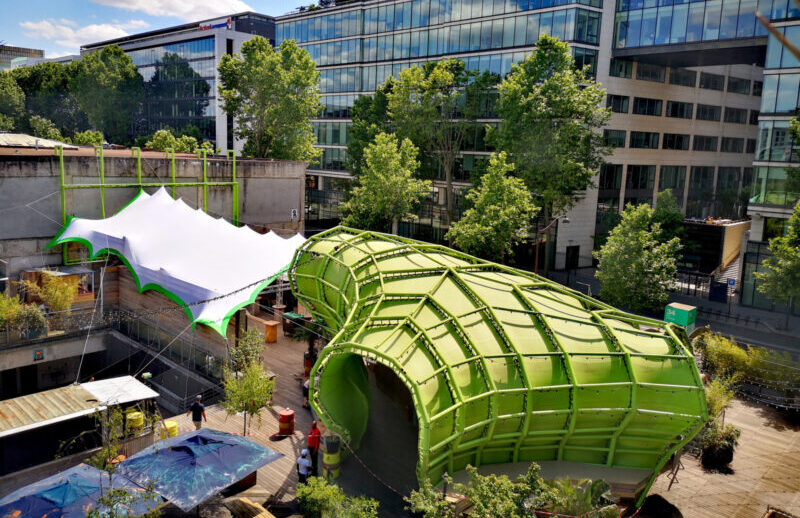 Wanderlust Paris is the perfect blend of modern and classic. This trendy nightclub offers a wide range of DJs and live acts, from up-and-coming local talent to world-renowned headliners.
With its glamorous ambiance, this venue provides an unforgettable night out for all who visit. The drinks selection is top-notch with something to suit every taste – whether it's a refreshing cocktail or a glass of vintage champagne.
Wanderlust Paris also features some delicious food options, from light bites to full meals – ideal for those looking to have dinner and club in one place! With its stylish decor and energetic atmosphere, Wanderlust Paris guarantees an evening that will live long in the memory.
Nouveau Casino: Hipster Dance Club Showcasing Local Talent
Nouveau Casino is one of the hottest nightlife spots in Paris. Located in the 11th arrondissement, Nouveau Casino is an eclectic mix of hipster dance clubs and local talent.
It's a place where locals come to enjoy some of the best live music venues around and DJs spin their favorite tunes late into the night. The venue also showcases up-and-coming French artists as well as international acts, making it one of Paris's premier destinations for cutting-edge music and entertainment.
The atmosphere at Nouveau Casino is always electric, with a vibrant crowd dancing until dawn and enjoying drinks from its full bar selection. As far as bars go this spot has everything you need to have an unforgettable evening out on the town – from craft cocktails to delicious snacks.
Whether it's exploring new sounds or simply reveling in a great time with friends, Nouveau Casino promises an experience like no other!
The Left Bank Cabaret- Jazz Cafe with Intimate Vibes
The Left Bank Cabaret is a jazz cafe located in the vibrant city of Paris. Its intimate atmosphere creates an unforgettable experience, perfect for both locals and visitors alike.
The cabaret offers live music every night, ranging from classic French Jazz to modern standards that will have you tapping your feet along with the beat. With its cozy atmosphere and dim lighting, it's easy to get lost in the music and let time slip away while you enjoy those sweet tunes.
Plus, with its delicious food selections, it can be hard to resist staying longer than planned! This little gem is not one to miss if you're looking for a truly unique experience in Paris; come alone or bring friends – either way, you'll love it here at The Left Bank Cabaret!
Divan du Monde- Classic Rock & Reggae Club in Montmartre
Located in the heart of Montmartre, Divan du Monde is a classic rock and reggae club that brings together some of Paris's best music talent. With its vibrant atmosphere, it's no wonder this venue has been around for over 20 years.
The dance floor moves to the beat of classic rock tunes and reggae rhythms from both local and international bands. Guests can enjoy an extensive selection of drinks at the bar while they groove away to live music performances throughout the night.
Whether you're looking for an intimate jam session or a lively night out on the town, Divan du Monde is sure to provide its unique blend of genres and warm atmosphere. From retro-style decor to cozy seating areas near the stage, every detail here adds up to create something special – making this beloved spot among locals one not to miss!
La Cigale- World Famous Venue Hosting Indie Bands & Musicians
When it comes to live music venues in Paris, La Cigale is an absolute must-visit. Located in the 18th arrondissement of Paris, this world-famous venue has been hosting independent bands and musicians from around the globe since 1984.
The unique atmosphere of La Cigale makes it a special destination for indie fans looking for a night out like no other. From up-and-coming local acts to international sensations, there is always something exciting happening at this vibrant venue.
With its wide variety of genres on offer and excellent sound quality, La Cigale offers an unforgettable experience that can't be found anywhere else in Europe. Whether you're into jazz or rock music, there's sure to be something for everyone here.
So if you are looking for an evening full of good food and great tunes – then head down to La Cigale and get ready to have some fun!
La Maroquinerie –A Multifaceted Space for Gigs, Parties & Cultural Events
Located in the vibrant 11th arrondissement of Paris, La Maroquinerie is a multifaceted venue that caters to music lovers and partygoers alike. This hub of nightlife offers an ever-changing variety of live shows, DJ sets, and other cultural events.
From hip-hop nights to experimental jazz jams, there's something for everyone at this eclectic spot. During the day it functions as an art gallery or rehearsal space; in the evening it bursts into life with high-energy gigs and dancing late into the night.
With its constantly evolving programming and commitment to promoting young talent from around France, La Maroquinerie has cemented itself as one of the top bars, clubs, and live music venues in Paris – a must-visit destination for anyone looking for a truly unique experience in the City of Lights.
Conclusion
Paris is known as the City of Lights, and with its bustling nightlife, it's no wonder why. From cozy bars to lively clubs and live music venues, there are plenty of places where you can enjoy a great evening in Paris.
Whether you're looking for traditional French cuisine or something more modern, these top 10 bars, clubs, and live music venues will give you an unforgettable experience. With so many options to choose from in this vibrant city, don't forget about escort Essonne when searching for a place to stay! No matter what your preference may be, one thing is certain – Paris has something for everyone!